Local Administration over the Past 20 Years
What do we mean by local administration?
People who reside in a specific administrative division form their local government, and they deal with their local issues on their own or by selecting their representatives.
History of Local Administration in Korea
I. Introduction and Initial Implementation (1948 – 1961)

In 1948, the establishment of local governments was institutionalized by the first constitution of the Republic of Korea (ROK) as the Government of the ROK was established.
In 1952, local council members of municipalities and provinces were elected to form the first local councils.
In 1960, local governments were established in full as mayors and governors were all directly elected by the people.

II. Suspension (1961 – 1991)

Local councils were dissolved, and mayors and governors were appointed by the central government.

III. Local Administration by Popular Vote (1991 – Present)

In 1991, the elections for local council members were conducted.
In 1995, local governments were established in full again as mayors and governors, as well as local council members, were all elected.
Evaluation of Local Administration over the Past 20 Years
The MInistry of the Interior and Safety is in the process of evaluating the performance, and analyzing the shortcomings, of local administration over the past 20 years as we mark the 20th anniversary of local governments by the popular votes. Experts from the private sector and academia as well as some representatives of local governments formed an evaluation committee to conduct multi-faceted evaluations. Some of the evaluation criteria are as follows:
Looking Back on 20 Years of Local Autonomy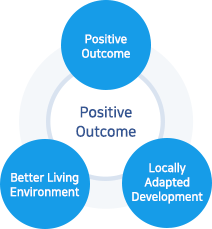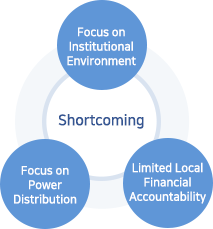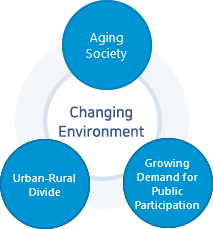 [Results of a Survey on 20 Years of Local Autonomy]
(Unit: %)
General Public, Policy Experts, Positive, Neutral, Negative of Results of a Survey on 20 Years of Local Autonomy

| | Positive | Neutral | Negative |
| --- | --- | --- | --- |
| General Public | 31.2 | 42.3 | 26.5 |
| Policy Experts | 56.3 | 29.5 | 14.2 |
Paradigm Shift in Local Administration
After a comprehensive review of the evaluation results and the changing environment, a new vision for local administration will be laid out. The new vision will lead the paradigm shift from institutions and elections to citizen-led local autonomy. Some of the key changes are as follows: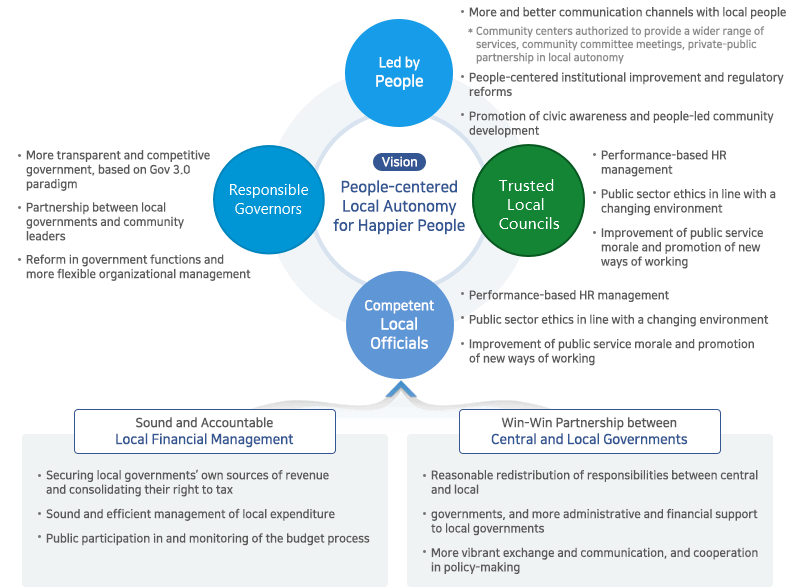 Vision : People-centered Local Autonomy for Happier People
Led by People

More and better communication channels with local people

* Community centers authorized to provide a wider range of services, community committee meetings, private-public partnership in local autonomy

People-centered institutional improvement and regulatory reforms
Promotion of civic awareness and people-led community development

Responsible Governors

More transparent and competitive government, based on Gov 3.0 paradigm
Partnership between local governments and community leaders
Reform in government functions and more flexible organizational management

Competent Local Officials

Performance-based HR management
Public sector ethics in line with a changing environment
Improvement of public service morale and promotion of new ways of working

Trusted Local Councils

Capacity building for local councils
More specialized secretariats
Stronger and more effective local legislative power
Sound and Accountable Local Financial Management
Securing local governments' own sources of revenue and consolidating their right to tax
Sound and efficient management of local expenditure
Public participation in and monitoring of the budget process
Win-Win Partnership between Central and Local Governments
Reasonable redistribution of responsibilities between central and local
governments, and more administrative and financial support to local governments
More vibrant exchange and communication, and cooperation in policy-making